Just a few of the lovely cobs we've owned...
Coryn Rebecca
Rebecca was one of our two original mares, and had wonderful old irreplaceable breeding. Born in 1986, she was by Derwen Trotting Express, (Derwen Railway Express x Derwen Seren Teledu), out of Rhandir Ruth, (Twyford Quiz x Rhandir Black). A great many Kaybrook stock have Rebecca's blood in them somewhere!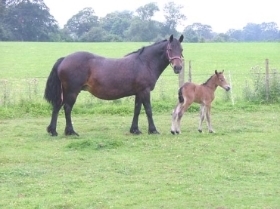 Kaybrook Valour
(2007 - 2013)
Valour was our homebred and much-loved licensed Welsh Section D Stallion. He was by the acclaimed sire Fronarth Victor, (Ebbw Victor x Fronarth Boneddiges), out of our foundation mare Coryn Rebecca, (Derwen Trotting Express x Rhandir Ruth). We had our first foal by Valour in 2010, Kaybrook SuperTed, another two lovely foals by him in 2011, (Kaybrook Juno and Kaybrook Mars), Kaybrook Black Magic and Kaybrook Galaxy in 2012, Kaybrook Conundrum and Kaybrook Valour's Bluebelle in 2013 and finally Kaybrook Victor in 2014. Valour was been away being produced by Tracey Milward over winter 2011/spring 2012, and we had hoped to see him in the showring in the future. Let's hope his youngstock can carry on where he left off.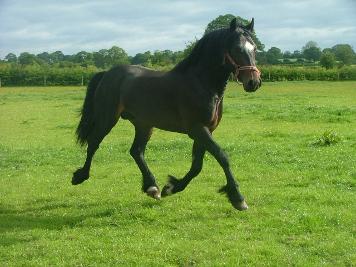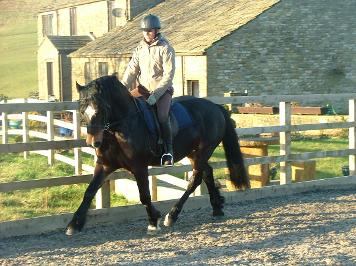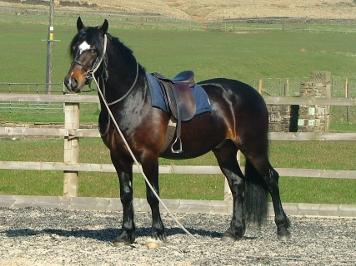 Kaybrook Camri
Camri was our first foal born at Kaybrook, in 2002, and is by Erdyl Tywysog, (Erdyl Daniel Owen x Pontywyled Princess), out of Erdyl Cariad, (Nebo Thomas x Erdyl Lauranne). Camri has not managed to get in foal for the last few years unfortunately, and cannot be ridden. She is an extremely good natured mare and easy to do in all ways, and has found her perfect role as companion to an ex racehorse.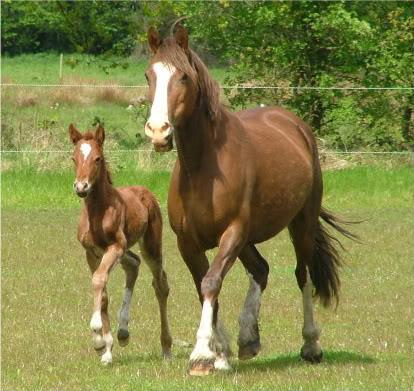 Rhydeilian Morning Sunshine
Sunny was with us from 2009 to early 2014, and after a long seach was chosen both for her bloodlines and her amazing floating paces. Born in 2006, she is by Gwenllan Bossy, (Gwenllan Sam x Gwenllan Branwen), out of Arosfa Morning Princess, (Glantraeth Cymro'r Wy x Arosfa Morning Lady). Sunny had 3 lovely colts, followed finally by a filly in 2013. Following the unexpected death of our stallion Kaybrook Valour in 2013, our remaining colts were both Sunny's sons, so she was broken to ride and sold. She will now be hopefully competing in M&M working hunter classes and will no doubt do very well.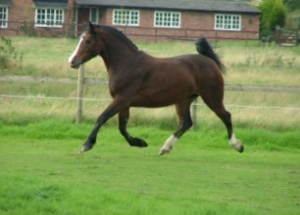 Wexland Owen
Owen was one of our stud stallions, and is the father of Patience, as well as several other foals who have gone on to new homes. By Brynaur Tywysog out of Oben Mary Jane, Owen had lovely breeding as well as a great personality. He was sold as Kaybrook Valour was taking over as senior stallion, and has since been gelded and brought back into ridden work.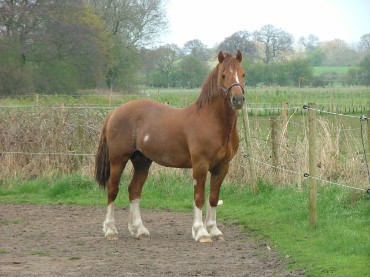 Kaybrook Peggy
Peggy was Rebecca's first foal at Kaybrook, born in 2004. Like Camri she is by Erdyl Tywysog, (Erdyl Daniel Owen x Pontywyled Princess). Peggy was broken to ride in 2007, although she has bred foals since then. Peggy has now been sold to a ridden home.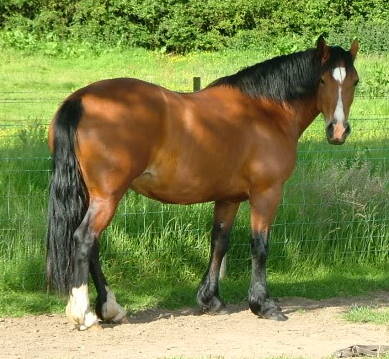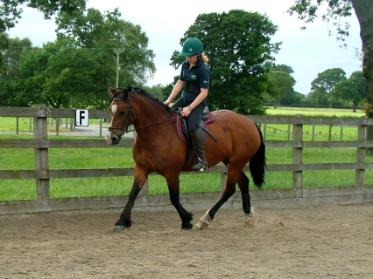 Kaybrook Mars
Mars is an extremely charismatic chap! Born in 2011, he is by Kaybrook Valour, (Fronarth Victor x Coryn Rebecca), out of Rhydeilian Morning Sunshine, (Gwenllan Bossy x Arosfa Morning Princess). Mars has excellent conformation, loads of bone and extravagant movement. He got his stallion licence in 2013, and will run with mares in 2014. SOLD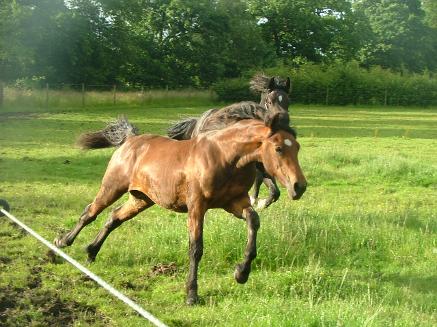 Kaybrook Midnight Comet
Born in 2010, Comet is by Trefaes Black Flyer, (Gwynfaes Culhwuch x Trefaes Black Pearl), out of Rhydeilian Morning Sunshine, (Gwenllan Bossy x Arosfa Morning Princess). Comet was sold in early 2015 and broken to ride. He is performing extremely well, and is off to HOYS for the second time this year!